Grooming Program
TART Trails' and Northern Michigan Mountain Bike Association's dedicated grooming teams provide great winter time conditions on the Vasa Pathway, Leelanau Trail and Winter Sports Singletrack; providing you with the ultimate winter trail conditions on both sides of the bay.
Grooming is primarily supported by the Grooming Badge program to help provide world-class trail conditions. Supporters receive grooming reports via email and a high-vis zipper pull to show their support while out on the trails. Grooming badge donations are 100% tax deductible.
Power the PistenBully
Help make winters on the Vasa Pathway even more awesome! We need your help today to invest in world class nordic trail conditions on the Vasa Pathway for years to come. Learn more and donate today!
Grooming Badges
$100 TART Grooming Badge | Vasa Pathway, Leelanau Trail, Muncie Lakes Pathway (cross country and skate skiing)
$50 NMMBA Grooming Badge | TC Winter Sports Singletrack, Cadillac Pathway, Glacial Hills, Bike Leelanau Northport (fat biking)
$50 Grooming Badge Youth (<18 years) | Access to all groomed trails (cross country skiing, skate skiing and fat biking)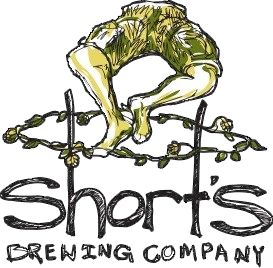 Grooming Reports
Grooming reports are emailed to badge holders. They are also made available within 24 hours via the grooming reports link. Get your Grooming Badge to have reports emailed directly to you. Grooming updates for the Winter Sports Singletrack can be found on the Northern Michigan Mountain Biking Association website.
Grooming reports are made possible by Short's Brewing Company.
---
Vasa Pathway
The Vasa Pathway is groomed regularly by TART Trails and includes a skate lane and two classic tracks when possible providing 3k, 5k, 10k & 25k trail loops that feature rolling hills and a few challenging climbs. The Winter Sports Single Track is groomed for fatbikes as well.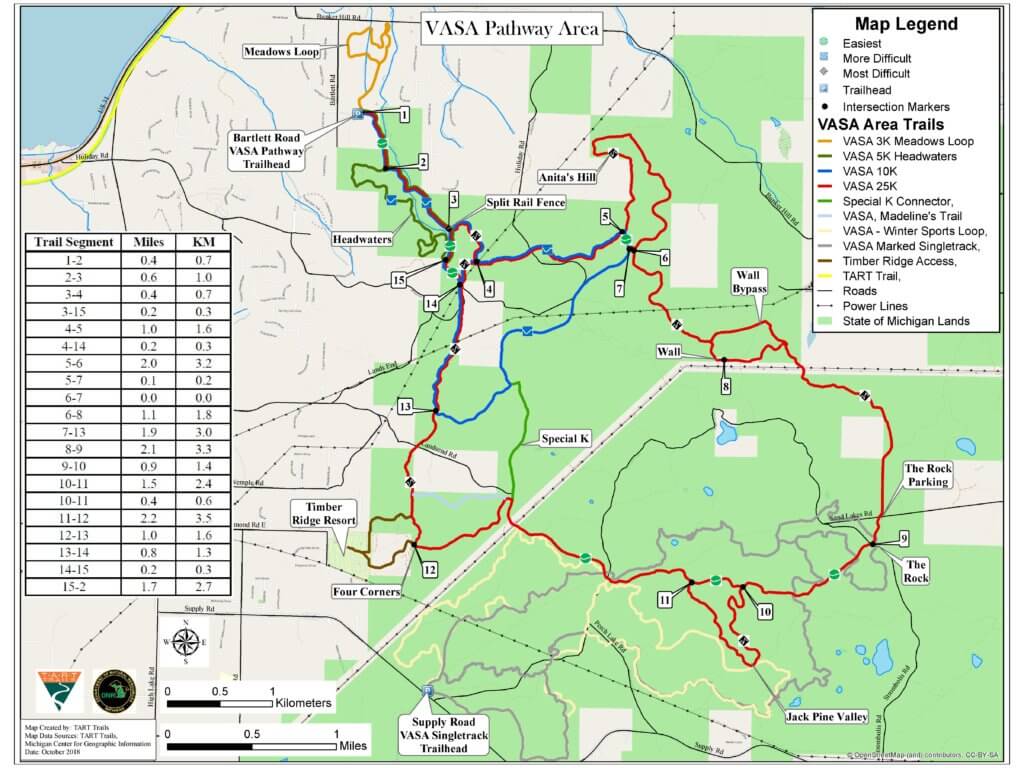 Vasa Pathway Groomers
Michael Brown
Jim Dombrowski
James Hart
Bill Heitman
David Hunter
Roger Raehl
Glen Rauth
John Stevenson
The Vasa Pathway is a DNR owned multi-use trail open to all non-motorized users year-round. If you notice any unauthorized vehicles on the Vasa Pathway, please try to get a license number and call the Sheriff's Department at 231-995-5000 to report the incident.
---
Leelanau Trail
The Leelanau Trail is groomed regularly by TART Trails Volunteers as conditions permit, and includes conditions well-suited for classic and skate-skiing, fatbiking and snowshoeing. The trail is groomed from the Cherry Bend trailhead to the 4th Street Trailhead. There is also a section with snow removal for walkers & runners.
The Leelanau Trail bisects the land of DeYoung Natural Area (191 acres) for .75 of a mile. From the Cherry Bend parking lot, a Universal Access trail (0.2 miles) leads to a lakeside fishing and viewing platform, where you can see the protected shoreline of Cedar Lake (4500 feet). After your stop at the fishing pier, you can continue onto The Cedar Forest Trail (0.5 miles) which will take you through an enchanting hardwood conifer swamp with open views of an old field meadow.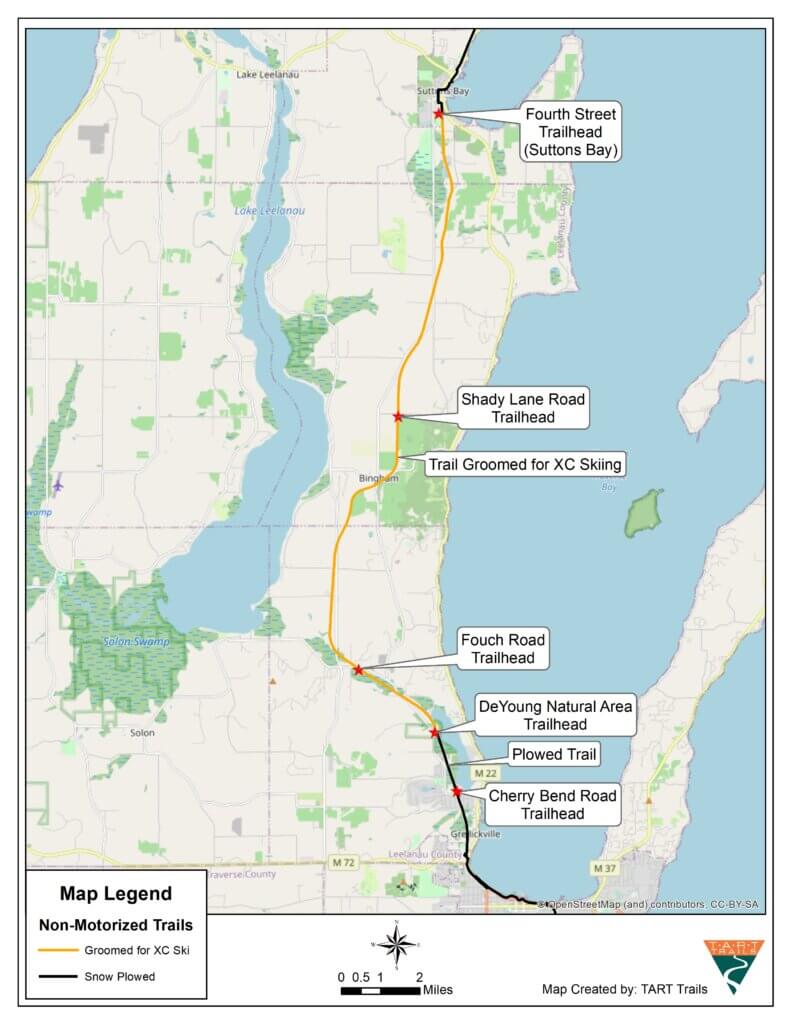 Leelanau Trail Volunteer Groomers
Michael Jarvis
Andrew Fles
Caleb Garone
Chad Jordan
Nick Wierzba
Glenn Martin
Dave Stellingworth
Jeff Zawisza
Clayton Russell
Thad Popa
Michael Burns
Randy Knopp
William Duncan
Steve Strong
Rik Andresen
Jeff Dungan
Peter Ostrowski
If Leelanau Trail users see snowmobiles using the trail, please try to get a registration number and call Leelanau County Dispatch at 231-256-8800, or 911.
---
Muncie Lakes
Muncie Lakes Pathway is a scenic trail with over nine miles of groomed classic track through the state forest and we are thrilled to continue improving this classic-only trail in the years ahead.
---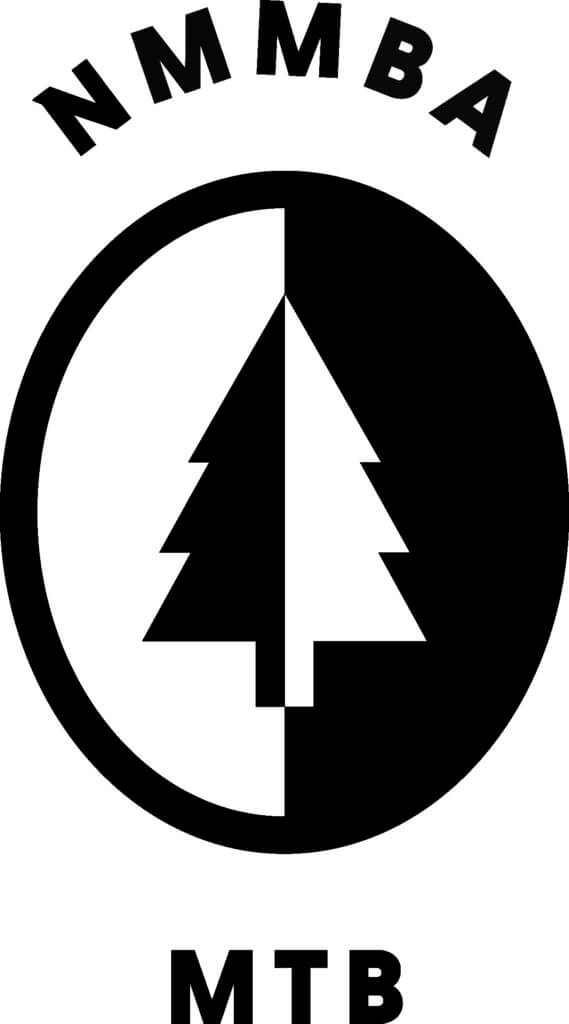 The Winter Sports Singletrack
The Winter Sports Singletrack is a multi-use trail that provides 15k of groomed trail ideal for fat-biking. You can also snowshoe and ski this non-motorized trail. The Northern Michigan Mountain Bike Association (NMMBA) handles trail development and grooming. Badges are available to support grooming of this trail.
In case of an emergency on the trail, dial 911. If you encounter a personal safety incident or trail maintenance issue of a non-urgent nature, please complete our online Trail Incident Reporting Form. We read and respond as appropriate to all reports, but will only follow-up with you if needed.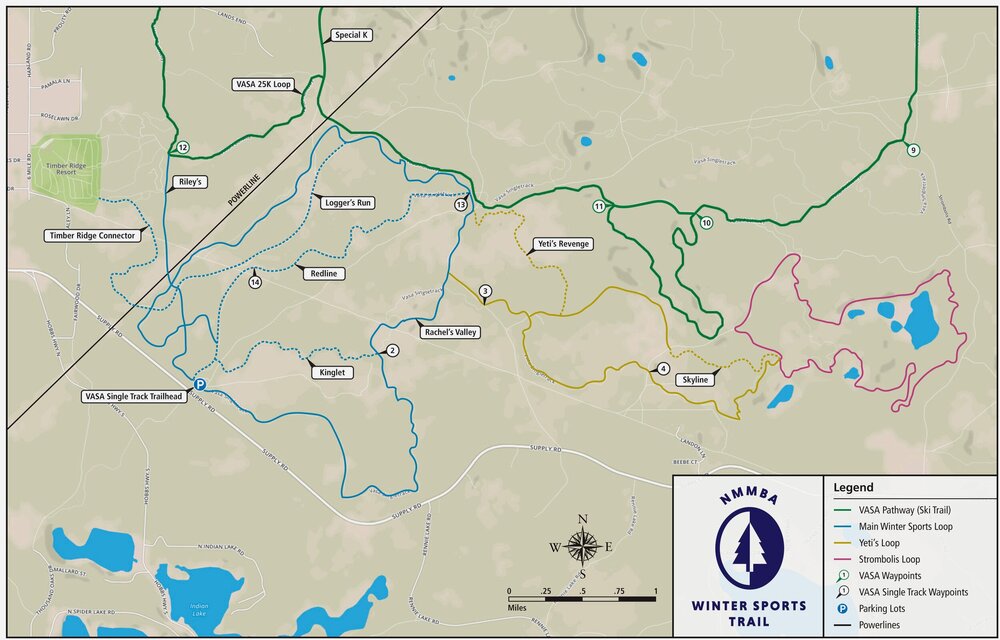 ---
Shady Lane Orchard Trail
Shady Lane Orchard Trail is located just off the Leelanau Trail at Shady Lane Cellars. The trail is groomed for classic and skate skies by the same hard working team that takes care of the Leelanau Trail all winter long. After playing outside you can warm up inside Shady Lanes tasting room with a nice glass of wine or hop on the Leelanau Trail for more fun.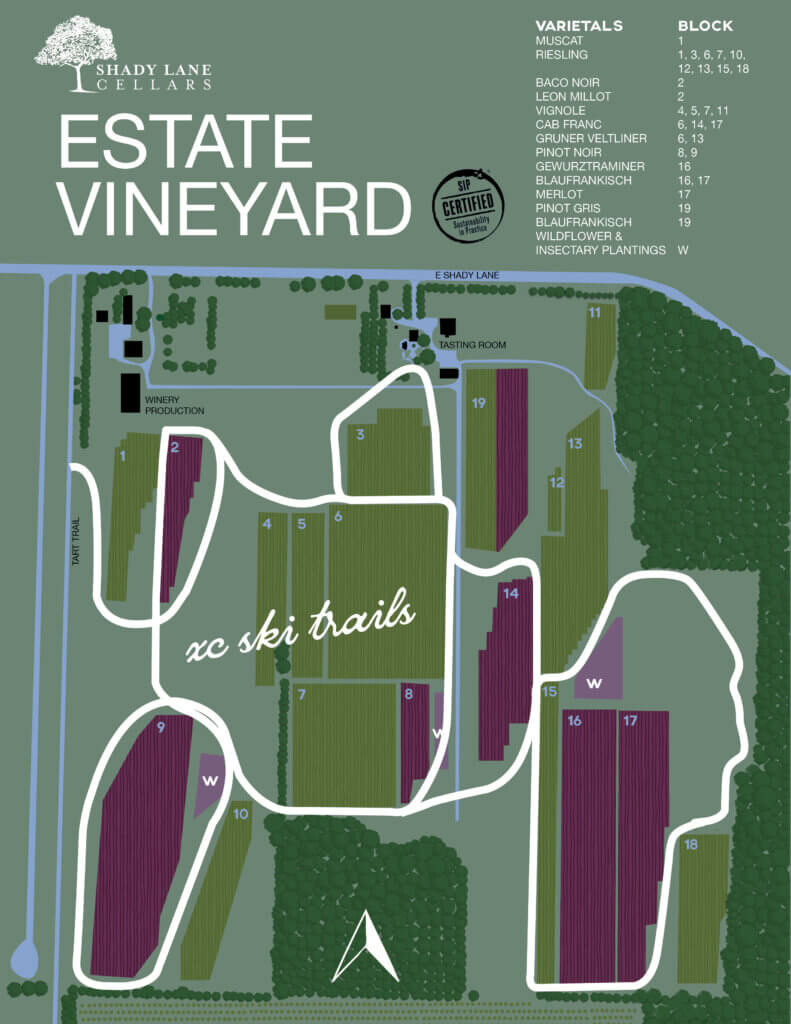 ---
Equipment & Maintenance
The grooming crews use a variety of equipment dependent on the type and amount of snow and ambient air temperature. The grooming budget fluctuates due to weather, fuel costs, insurance, equipment, maintenance issues and other factors. The budget is approximately $40,000 annually. The Michigan DNR provides some expense reimbursement for grooming on the Vasa Pathway, but more than 75% of funding comes from badge donors. Each year, funding dependent, we set aside funds in a Snowy Day Fund, which is restricted for the purchase or major repair of grooming equipment