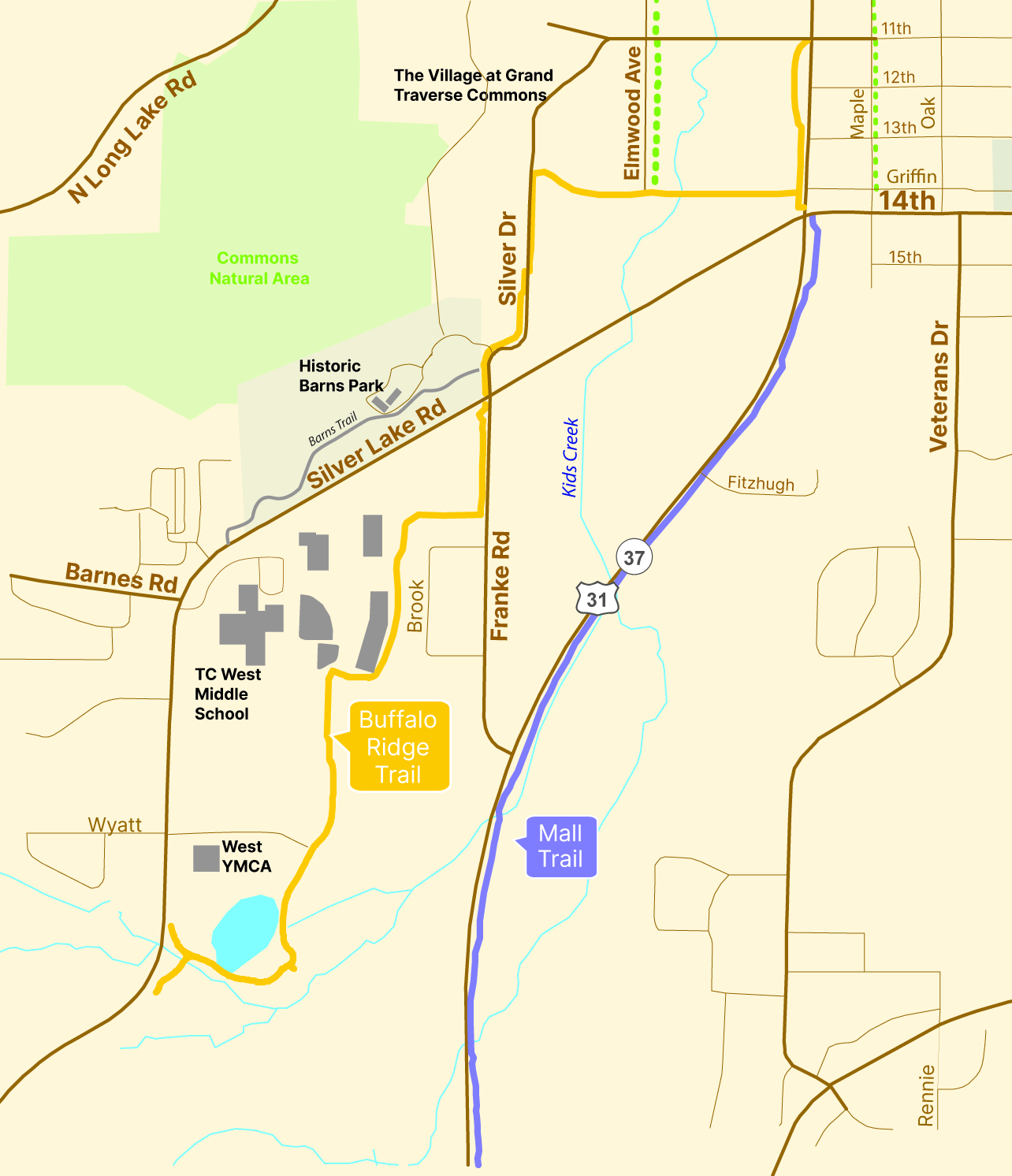 The Buffalo Ridge Trail is currently an almost 1.5 mile trail connecting The Village at Grand Traverse Commons to Traverse City West Middle School and the YMCA, passing by the TBA-ISD main office and conference center, the Historic Barns Park and the Botanic Garden. When completed, the proposed 4.5-mile trail will connect the west and southwest areas of Traverse City.
Trail Connections
The Buffalo Ridge Trail is part of a network of trails nestled between Silver Lake Road and US-37. In addition to Buffalo Ridge Trail, the Safe Routes to School path between Wyatt and Barnes Roads was completed in fall of 2012. Shortly thereafter, Garfield Township and the Joint Recreation Authority completed the Barns Trail. The Barns Trail runs parallel to Silver Lake Road and connects the Buffalo Ridge Trail from Silver Drive to the Safe Routes path at Barnes Road.
The Buffalo Ridge Trail within the city limits is owned by the City of Traverse City, outside the city limits it is owned by Garfield Township. TART Trails works with the City and Township on trail projects.
Construction of Phase II was completed in September 2016 by AJ's Excavating. The newest segment is a scenic ADA accessible trail almost one mile long connecting West Middle School to the West YMCA off of Silver Lake Road and Kids Creek Park. Funding was secured through the Oleson Foundation, DNR Trust Fund and Garfield Township.
Parking
Parking can be found at Marketplace Circle in Traverse City. (West side of Kohl's parking lot.)
Map
PDF of Buffalo Ridge Map here.
Trail Project Updates
For updates on trail construction & progress go here: Buffalo Ridge Project
---