Connecting the Three Mile Trail to the cluster of school campuses south of Hammond Road has been a long standing and unfinished effort. Thanks to the Grand Traverse Regional Land Conservancy's recent establishment of the Mitchell Creek Meadows Nature Preserve, there is an unparalleled opportunity to expand the TART trail network and create a gateway for recreation, resource stewardship, transportation, and education in the Three Mile and Hammond corridors in East Bay Township.
The conceptual plan for the Three Mile Trail Extension was launched in the summer of 2020 by TART Trails, East Bay Township, the Grand Traverse Regional Land Conservancy, and Norte Youth Cycling. Project partners engaged the public through outdoor and online input opportunities.
Informed by thoughtful community input, a thorough design analysis, and our project partners, the conceptual design for the proposed Three Mile Trail extension was completed in the summer of 2021 and approved by the East Bay Township Board of Trustees on August 9, 2021.
Through the generosity of private funders and federal investment, project partners are launching trail design and engineering in 2022.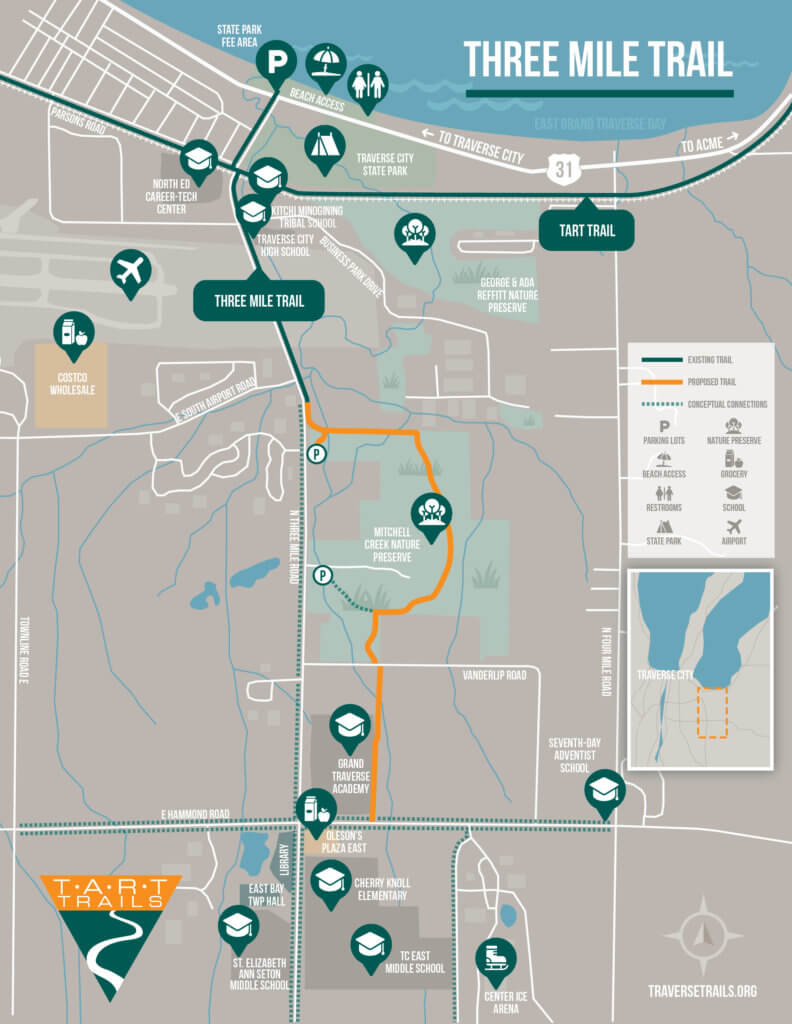 To view summary reports from these events, please click on the links below.
Public Survey Report – Fall 2020
Community Open House Report – Fall 2020
Stakeholder Meeting Summary – Winter 2021
Three Mile Trail and Non-Motorized Connectivity Plan 2021
---
Thank you to our Three Mile Trail Conceptual Planning Funders & Project Partners:
Go Farther Fund
Dan and Marsha Edson
Funders $10,000+
In memory of Gordon & JoAnn Grapes Mutual Gas
Dr. Timothy and Mrs. Sally Hanley
Jim and Diana Huckle Family Foundation
Brian and Jennifer Jaffe
Diana and Richard Milock

Project Partners
East Bay Township
Grand Traverse Regional Land Conservancy
Norte
---