Over the past year, Traverse Area Recreation and Transportation (TART) Trails, Inc worked with researchers from the University of Florida's School of Forest Resources and Conservation to identify and measure how key stakeholders believe non-motorized trails in the region benefit and impact local residents, tourists, area businesses, and the region as a whole. Altogether, over 800 surveys were collected directly from trail users along with extensive surveys from business owners and health care professionals which shaped the study's results.
TART Trails and researchers developed a summer visitor survey and interviewed health care professionals and local business leaders over the past year. The Edmund F. and Virginia B. Ball Foundation provided the funding.
"Our research shows that trails in your area are providing the benefits we would expect any trail system to provide, like appreciation of nature and access to scenic views," according to Taylor Stein, professor of ecotourism at the University of Florida and leader of the study. "But, the Leelanau and Sleeping Bear Heritage trails go above and beyond those benefits, helping to improve citizens' health and providing direct economic value to local businesses. The investment put into these trails will only magnify these benefits and the community recognizes that more trails will result in more benefits."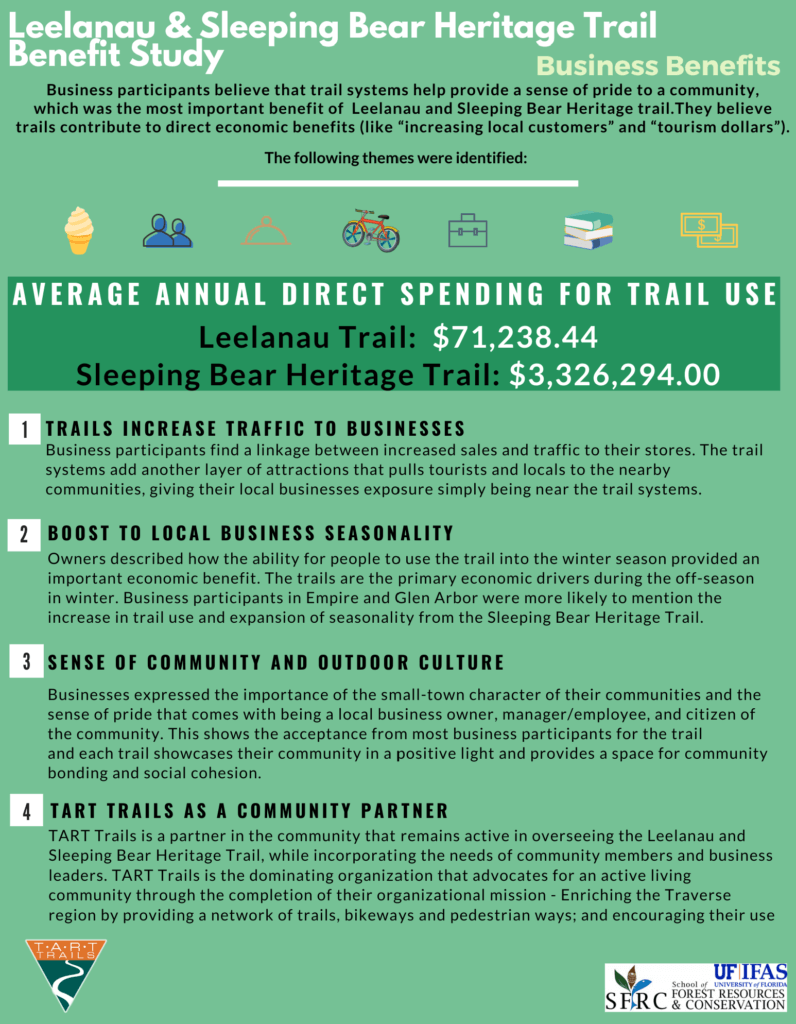 According to Stein, many people understand recreation opportunities, like multi-use trails, provide opportunities for people to benefit, but these benefits are rarely documented and measured. Therefore, TART Trails organized this study to specifically examine the health, economic, and visitor use benefits of two multi-use trail systems in the Traverse City region that they manage: the Leelanau and Sleeping Bear Heritage Trail.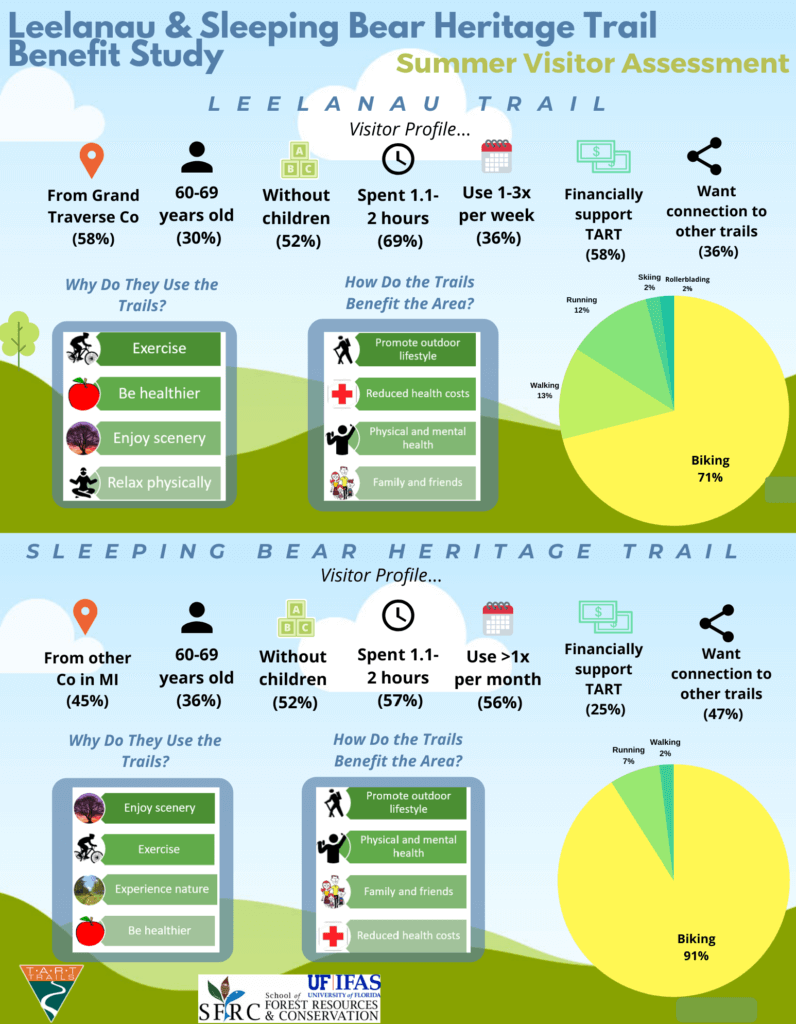 The main implications of the study showed that the Leelanau and Sleeping Bear Heritage trails are not just frivolous recreational trails that provide a few people with a chance to bike, walk, run, and ski. Health care professionals, business leaders, and the users themselves believe these trails help define the area and give the Traverse region a sense of being an active community.
Specifically, business leaders believe the trails enhance the sense of community among residents. They also acknowledge the trails provide an extra layer of tourism and extend the seasonality of many businesses.
Visitors and health care professionals stressed that the trails help make the community healthier and reduce overall health care costs in the region. In fact, health professionals argued that increased partnerships and improving access of the trails to more citizens would be an excellent preventative health care strategy for people struggling with obesity, heart disease, and other ailments attributed to living a solitary lifestyle.
Finally, all respondents agreed that increased investment in the two trail systems to sustain their high quality and increase their connections through the region would increase the benefits it provides to the community.
A summary of the study along with more detailed findings can be found here.