The Buffalo Ridge Trail is a proposed 4.5-mile trail that connects the west and southwest areas of Traverse City. The Buffalo Ridge Trail is currently an almost 1.5 mile trail connecting The Village at Grand Traverse Commons to West Middle School and the YMCA, passing by the TBA-ISD main office and conference center, the Historic Barns Park and the Botanic Garden.
The Buffalo Ridge Trail Phase III Concept is for a 2-mile segment of proposed trail along Silver Lake Rd from Creekside Drive to Zimmerman Rd and south to East Silver Lake Park connecting nearby neighborhoods (approximately 300 homes), such as Silver Lake Farms and Horizons West, with safe bike and pedestrian access to TC West Middle School and the new TCAPS Montessori School, as well as access to nearby shops and into downtown and beyond.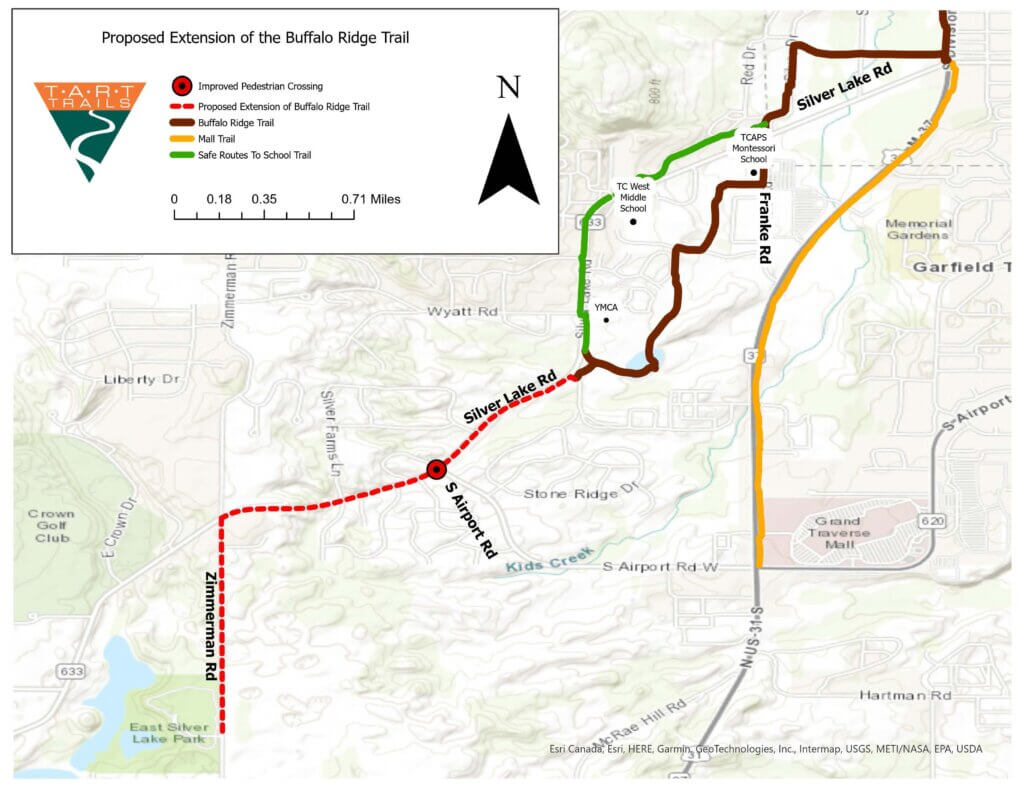 Trail Connections
The Buffalo Ridge Trail is part of a network of trails nestled between Silver Lake Road and US-37. In addition to the Buffalo Ridge Trail, the Safe Routes to School path between Wyatt and Barnes Roads was completed in fall of 2012. Shortly thereafter, Garfield Township and the Joint Recreation Authority completed the Barns Trail. The Barns Trail runs parallel to Silver Lake Road and connects the Buffalo Ridge Trail from Silver Drive to the Safe Routes path at Barnes Road.
The Buffalo Ridge Trail within the city limits is owned by the City of Traverse City, outside the city limits it is owned by Garfield Township.
History of Trail
Phase II Final Design:
Final Alignment
Overall Layout
Documents for the final Public Input:
Final Public Input Meeting Notes
Final Stakeholder Meeting Notes