In partnership with Michigan Writers, we are proud to present the Poetry on the Leelanau Trail pilot project. Poetry on the LT consists of work from five poets including Lois Beardsley, Ari Mokdad, Jen Steinorth, Yvonne Stephens, and Mae Stier. Stencils of short poems are chalk dusted every few miles onto the 18 miles of Leelanau Trail that traverses from Traverse City to Suttons Bay. The stencils last two to four weeks, depending on the weather, and may be reinstalled throughout the warm season.
About the Artists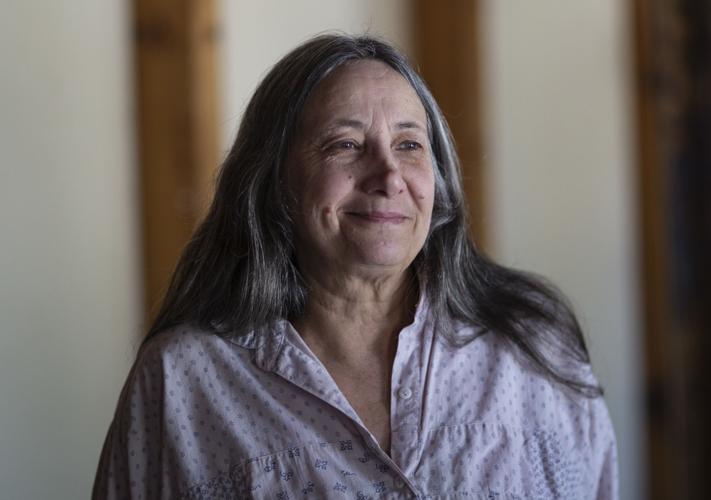 Lois Beardslee is an award-winning Ojibwe author and illustrator. She is the first Native American to win the Michigan Notable Book Award, for her latest book, WORDS LIKE THUNDER, New and Used Anishinaabe Prayers (Wayne State University Press 2020), which received a silver medal in the 2021 Midwest Book Awards. Her work celebrates the strengths of indigenous people while addressing contemporary issues like climate change, socioeconomic inequality, racism in education, cultural appropriation in literature, and the impact of white-flight on Native Americans north of the Great Lakes Rust Belt.
Ari L Mokdad is a Detroit-born poet, writer, choreographer, dancer, and educator. She received three Bachelor of Arts degrees from Grand Valley State University in Dance, English, and Writing. Ari received an MA from Wayne State University in 2017 and an MFA from Warren Wilson College in 2023. She lives with her partner in Northern Michigan on the ancestral and unceded land of the Ojibwe, Odawa, and Pottawatomie people, The People of the Three Fires.

Jennifer Sperry Steinorth's books include A Wake with Nine Shades (2019) and Her Read, A Graphic Poem (2021), recipient of Foreword Review's bronze prize in poetry and Texas Institute of Letters' Fred Whitehead Award for Design. She lectures at the University of Michigan and is a 2023-2024 Beinecke Fellow at Yale, conducting research for a biography of C.D. Wright. Her poetry appears or is forthcoming from The Cincinnati Review, Denver Quarterly Review, Kenyon Review, Missouri Review, Pleiades, Plume, and TriQuarterly.

Yvonne Stephens' chapbook, The Salt Before It Shakes, was published by Hidden Timber Books in 2017. The Dunes Review, Family Stories from the Attic, Eucalypt, iō Literary Journal, and Olney Magazine have also published her work. Small-town librarian, amateur mycologist, and mental health advocate, she lives with her family in Bellaire.

Mae Stier is a writer and photographer living in northern Michigan. She has a BFA in Creative Writing from Grand Valley State University. In 2019, she self-published a collection of poetry and essays entitled "Lake Letters," inspired by her love of Lake Michigan. The book can be purchased from her website, lakeletters.com. She lives with her husband and two young children in Empire.
This project is made possible through support from the Bronco Wild Fund.