Virtual – Smarter Commute Week
September 21, 2020

-

September 25, 2020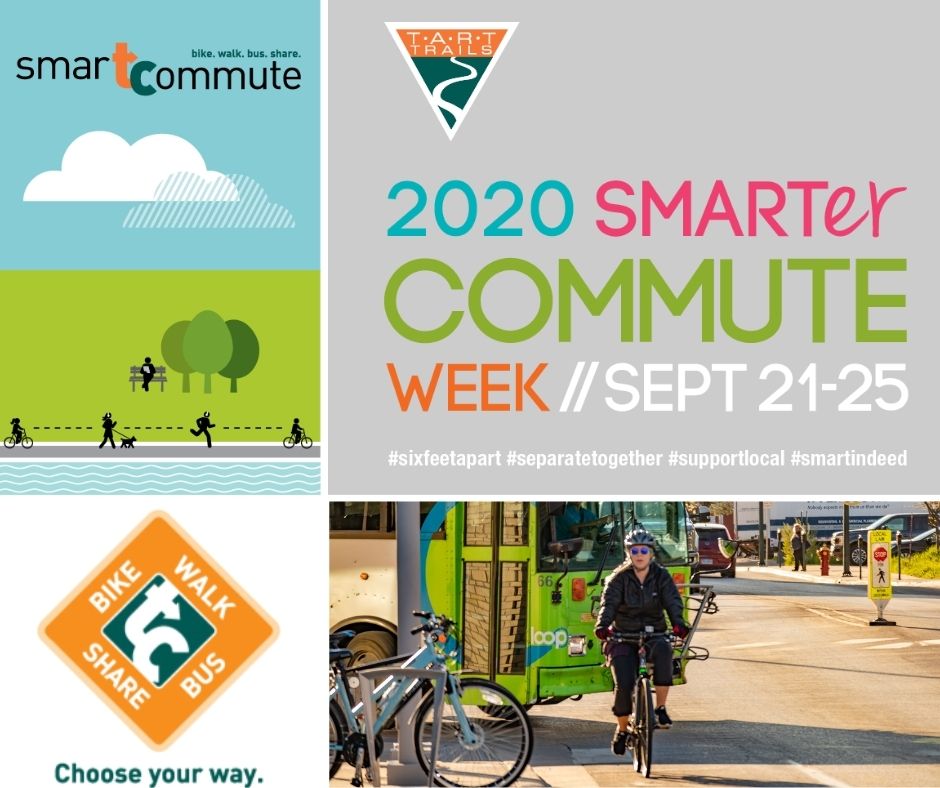 The 2020 Virtual Smarter Commute Week consists of activities that promote getting around by using your own two feet in a smart, safe and healthy way! While we won't be able to gather together as we have in the past, we're determined to help out our neighbors and business partners. This year's Smart Commute Week is all about community, not competition!
What does "Commuting" really mean?
According to the League of Michigan Bicyclists, anytime you pick a bike (or your own two feet!) over a car to get where you need to go, you're commuting. Basically, any trip can become a commute! Or, maybe you're working from home right now – you can "commute" the distance that you would have driven to the office. Maybe you drive to a park on a regular basis – you can "commute" to the park by bike instead.
When is it?
Monday, September 21, 2020 – Friday, September 25, 2020
Smarter Commute Week 2020 takes place the same week as National Bike to Work Week, Michigan Trails Week, and the return to face-to-face instruction for TCAPS Students!
How to Participate:
1. Register for this FREE event below.
2. Record your Smarter Commute Week Challenge points on the Challenge Scorecard each day.  You will receive the scorecard in your email inbox each morning.
3. Log at least one point per day to be entered into the prize drawing at the end of the week!
4. Share your Smart Commute experiences with us on Social Media, tagging @TARTTrails.
Prizes
All Smarter Commute Week registered participants who arrive at Oryana by alternative means, i.e. bicycle, carpool, etc. will receive 5% off their bill.
All Smarter Commute Week registered participants will receive $2 off their late fees at the Traverse Area District Library.
All Smarter Commute Week registered participants who log at least one Challenge point each day during the week of 9/21/20-9/25/20 will be entered into a drawing for the following prizes:
– Library bag from the Traverse Area District Library
– Downtown Traverse City Gift Certificate
– BATA swag bag
– TART Trails swag bag
– Northwestern Michigan College swag bag
– Oryana gift card
Smart Commute Week Planning Committee
Michele Howard, TADL
Rob Hanel, Tent Craft
Brittany Miller, Munson
Nick Viox, Traverse City DDA
Heather Halt, Traverse City Parking Services
Ben Miller, Hagerty
Meg Young, Northwestern Michigan College
Eric Lingaur, BATA
Tyler Bevier, BATA
Stephanie Mathewson, Oryana
Elizabeth Calcutt, Networks Northwest
Kate Lewis, TART Trails
Janna Goethel, TART Trails