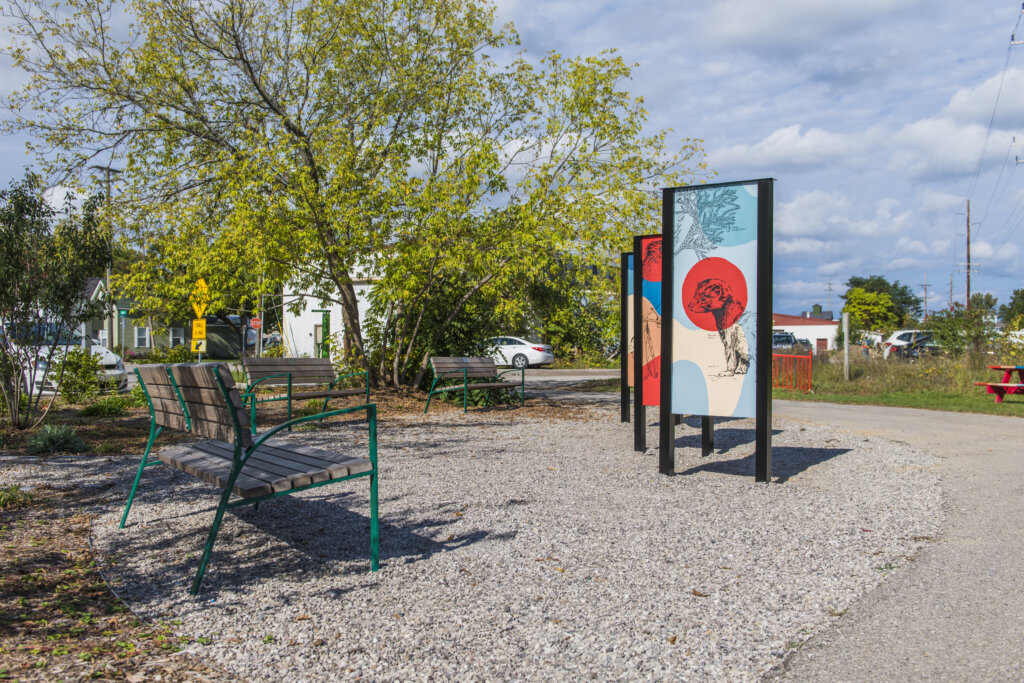 Sous la Ciel, Conservation Conversation, 2021
The Boardman Lake and watershed are a gift to the Traverse City community—one of deep biodiversity that the TART can share with residents and visitors year round. Our concept installation combines functional aspects of the space as a place to gather while also bringing to life the beauty of and appreciation for the natural environment through education and art. We hope that others who frequent the trail will take the time to also look around and appreciate how important conservation is to this beautiful place.
We took inspiration from visiting the space, seeing the amazing flora and fauna and hearing from so many different bird species making their home along the trail. And upon further research, we discovered a 1979 Michigan DNR study that did a deep dive into the rich spectrum of species that now call the TART Trail home.
Our hope is to pique people's interest in finding and discovering more in their natural environment while biking, running, and walking through, potentially spotting the plants, animals, and birds that surround them. Such connection to place can inspire conversations about why conservation of natural spaces is so important to our communities now and in the future.
About the Artists
Adrienne Pickett laid the foundation for Ciel by painting murals at just 12 years old, and she began formal art training in childhood that would ultimately inspire her graphic and gestural style. After receiving a fine art scholarship from the City of Livonia and several Scholastic Art Awards, she earned a Bachelor of Fine Arts at the University of Michigan's School of Art and Design. She has since served as an art director and creative director for high-visibility campaigns and companies, and, in 2017, she launched her own creative marketing firm. Adrienne has won several prestigious awards in graphic design and contributed her fine art skills to murals throughout Southeast Michigan.

Kellie Bambach's journey with the arts began with a fascination for crayola crayons as a toddler, and continued as she entered the University of Michigan School of Art, where she earned her BFA with a concentration in graphic design and drawing. Upon graduation, Kellie continued her studies for a summer abroad in Florence, Italy at SACI. After returning to the US, Kellie applied her skills by working 15 years in the advertising/design industry before starting her own branding studio in 2011. Kellie looks forward to combining her love of brand building and storytelling with creating murals, street art, and experiences that unite, entertain and inspire.