The Boardman Lake Loop Trail Officially Open on Friday, July 1!
We have FINALLY completed the Loop!
TART Trails, the City of Traverse City, Charter Township of Garfield, Grand Traverse County and other project partners are celebrating the official opening of the fully constructed Boardman Lake Loop Trail. Community members and visitors can now enjoy a 4+ mile Loop around the perimeter of the Boardman Lake, a community project more than 30 years in the making. From breaking ground last fall on the final section, Team Elmer's will be removing the barricades by the end of the day today.
This beautiful and highly anticipated Loop is the product of meaningful, high impact collaboration, years of support, gumption, and hard work from many facets of the community. Thanks to the passion and persistence of countless individuals and trail project partners, the Loop is now a reality and serves as the crown jewel and centerpiece of the TART Trails network. We are thrilled to share in this monumental moment with the community.
Completing the Boardman Lake Loop Trail has been a top community priority on the minds of many community members and public figures as it serves as a critical corridor for non-motorized transportation and recreation.
Please save the date for a ribbon cutting ceremony at Medalie Park to celebrate the completion of the Boardman Lake Loop Trail – Friday, August 19 at 6pm! More details to come here.
---
Completing the Loop will showcase the region's natural, cultural and recreational resources—the trail will help share the story of both the Boardman River's and the community's transformation by highlighting our unique freshwater environment and featuring captivating public art installations. The Loop will help support healthier and stronger communities and economies.
In partnership with Garfield Township, Grand Traverse County and the City of Traverse City, TART Trails is working hard to complete the remaining trail connecting NMC's University Center, Logan's Landing, and Medalie Park with the existing trail.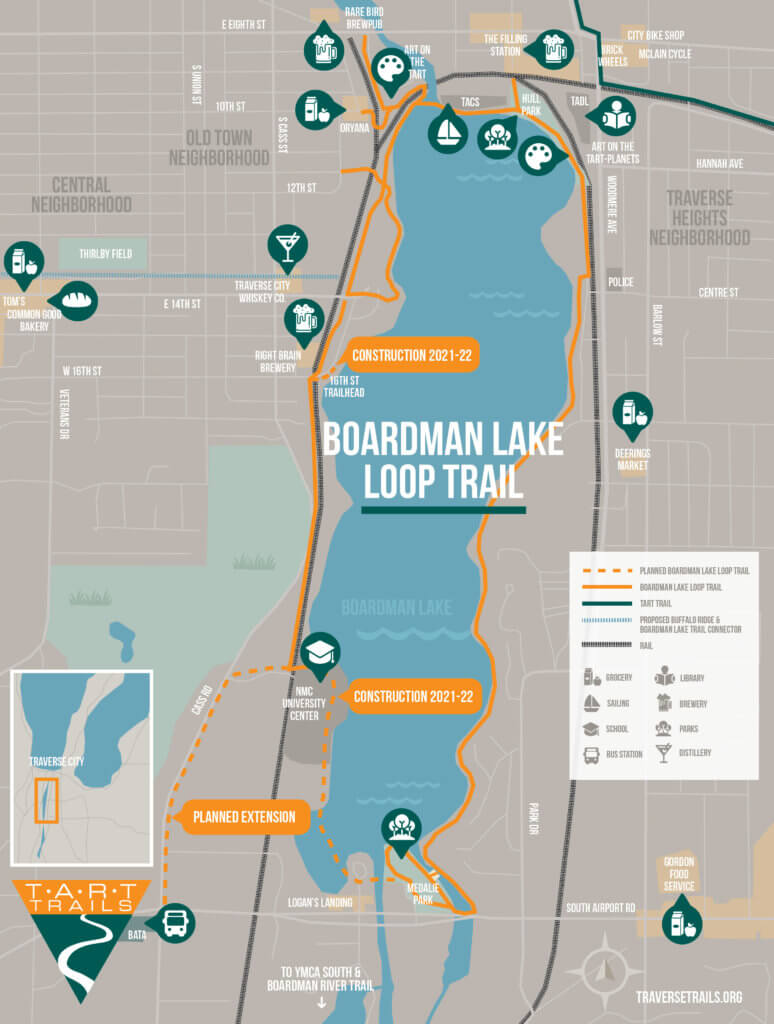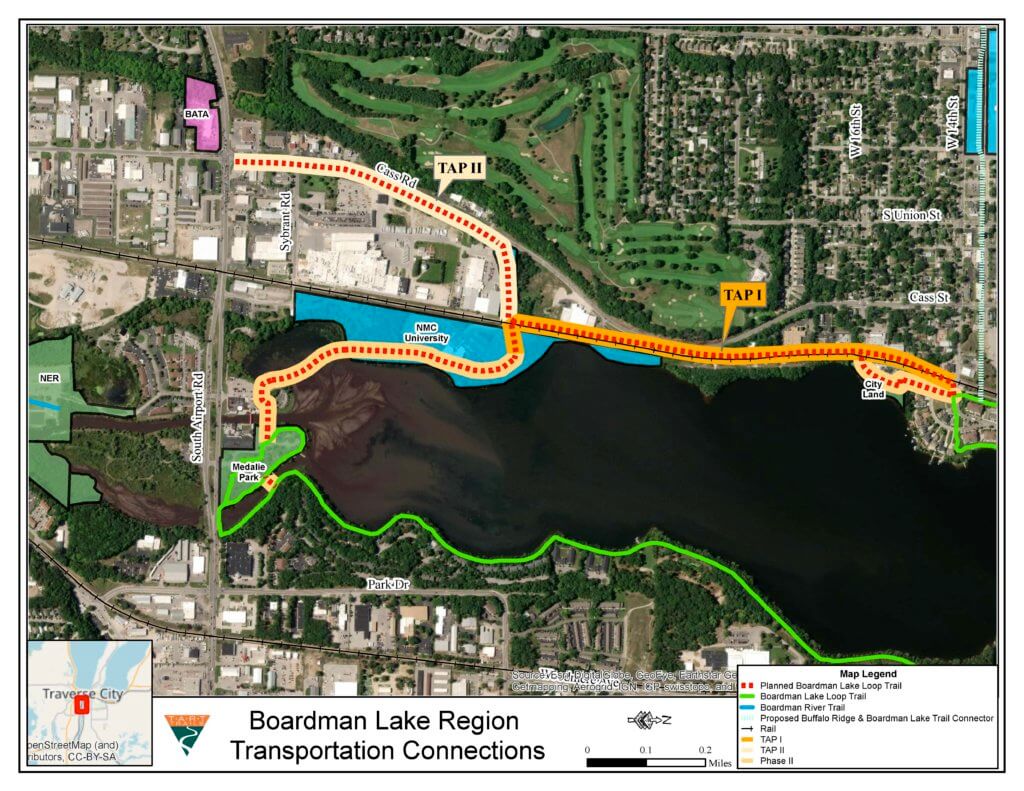 The maps show the preferred conceptual route. The design was informed by extensive public input comprised of interviews, focus groups, public open houses and on-line public comment.
Read the blog provided by Prein & Newhof on project updates here.
Partners are building not just a trail but a linear park that reflects the community's values. The public input process for the design of the project involved extensive community outreach with hundreds of individuals weighing with their views and values. Universal access to the water and view-sheds, preservation of the natural character and opportunities for the trail to serve as a recreation and commuting corridor were consistently identified as important values for the trail.
---
Thank you to our Boardman Lake Loop Funders & Project Partners:
Go Farther Fund
Dan Edson
Trail Blazer $500,000+
Michigan Natural Resources Trust Fund
Transportation Alternatives Program
Explorer $100,000+
In Memory of Gordon & JoAnn Grapes, Mutual Gas
Land and Water Conservation Fund
Founder $50,000+
Anonymous
Traverse City Track Club
Rotary Charities of Traverse City
Tom's Food Markets
Voyager $25,000+
Anonymous
Consumers Energy Foundation
Julie Falconer
Hagerty
Brian and Jennifer Jaffe
Gordon and Marlene Rady
The Oleson Foundation
Timken Foundation of Canton

Pathfinder $10,000+
Aspire North REALTORS®
The Les & Anne Biederman Foundation
George and Patricia Bearup
Chuck & Susan Cady
Cherry Capital Cycling Club
Terry and Jody Clark
Daniel & Linda Cline
Sara Cockrell
Donald and Marylou Coe
John & Gina Erb
The Filling Station, Klepper Family
Michael & Mary Foley
Frey Foundation
Tim and Sally Hanley
Richard Hutchinson & Rebecca Davis- Hutchinson
Elaine Jason
Frank Noverr and Toni Tonda
Okerstrom Family
Olds Family
Oryana Community Cooperative
Rodenberg Family
TCF Bank – Chemical Bank
The Art & Mary Schmuckal Family Foundation
Tim Werner & Petra von Kulajta
Edward Slosky

In cooperation with
Brownfield Redevelopment Authority
City of Traverse City
Garfield Township
Grand Traverse Band of Ottawa & Chippewa Indians
Grand Traverse County
Michigan Department of Natural Resources
Michigan Department of Transportation
Michigan Economic Development Corporation
National Oceanic and Atmospheric Administration